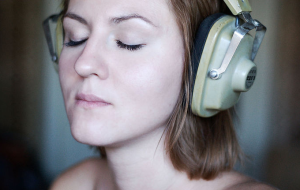 I'm a long-term user of – and borderline obsessive about – the music tracking site last.fm. Since I joined in 2005, last.fm has tracked pretty much every song I have listened to on my computer, and created statistics that show me my most listened to tracks, artists and albums. A quick glance at my account betrays my almost unhealthy obsession with Tom Lehrer, along with more of my most played artists including Amy Winehouse, Regina Spektor and Ani Difranco.
As well as neatly summing up my listening habits, last.fm is a music recommendation service. The site suggests other artists I might enjoy, based on what people who enjoy similar things to me also listen to. It has personalised radio stations that I can tune into and discover new artists, while also hearing my proven, tried-and-tested favourites.
The last.fm 'scrobbler' download allows the service to log the songs I play and build its personalised profile of my listening habits. It is compatible with over 600 different music listening apps, and also works with services like Spotify, to make sure it gets the most accurate picture of what its users listen to.
There has always been one area where I have felt it is lacking, and that is that any music I listen to on the radio and on sites like SoundCloud and YouTube is not recorded. However, that has all changed thanks to a third-party mobile app called Scrobblr. In a blog post, Maddieman writes,
The reason it's got me excited, is because it means you can potentially scrobble anything and everything you can hear — broadcast radio; TV; car stereo; games console; CD, Vinyl, Cassette; and services that don't natively scrobble like soundcloud, youtube, and xbox music. The developers even claim (though we've had mixed results ourselves) that you can scrobble music heard out and about at pubs and clubs.

For example, I've been using it to scrobble BBC radio while simultaneously streaming it through my phone (photo pending), and also to scrobble the radio stations that play on Grand Theft Auto V. One of the biggest complaints/requests we've had regarding the Last.fm Xbox app is that it doesn't scrobble music in the background while gaming — using this app you can do just that.
Scrobblr works in a similar way to Shazam, by 'listening to' the tunes you play, and identifying them using a database of songs that it compares the sound profiles to. It then adds the songs it recognises to your last.fm list. It is available as a free app for both Android and iOS devices.
For a scrobbling addict like myself, Scrobblr is a brilliant step forward for last.fm. Its creators write,
Scrobblr makes use of the microphone of your Android smart phone to record music, identify and scrobble it to Last.fm. Scrobblr can be used with any source that is loud enough. Whether in the car, while traveling or at a party – Scrobblr can scrobble everything.

With this Last.fm scrobbler you can finally also scrobble radio or television stations or from vinyl and fill your Last.fm profile with the played songs.
Scrobblr is not infallible. It did not recognise this Paul Heaton album on the Guardian website for instance, and it sometimes records tracks twice, but it is a huge advance for the site nonetheless, and I would highly recommend giving it a go.
(Image credit: Kashirin Nickolai, CC licence)